Congratulations to Singapore. We have 2 dishes featured in the World's Best Food by CNN. Not surprisingly, it features 2 dishes that is quite frequently associated by the long queues: – Chicken Rice and Chilli Crab.
#45 : Chicken Rice
The Chicken Rice came in at number 45. Often called the "National Dish" of Singapore, the chicken is one of the must eat dishes whenever any tourist come to Singapore. When Thai Princess Maha Chakri Sirindhorn was hosted to lunch by our Prime Minister Mr Lee Hsien Loong, the chicken rice was served as it was the Thai Princess' favourite Singaporean dish.
Some of our favourite Chicken Rice stalls are
Golden Mile Thien Kee Steamboat
6001 Beach Road #B1-20 Golden Mile Tower 199588
Opening Hours : 11am – 10pm
Sing Ho Hainan Chicken Rice
1A Short Street #01-04 Singapore 188210
Opens 11am – 11pm Daily
Margaret Drive Chicken Rice (Since 1978)
22A Havelock Rd, #01-22, Singapore 161022
Opening Hours : 10am – 4pm
Shi Mei Hainanese Chicken Rice (Stall in Sin Huat Lee Restaurant)
371 Bukit Batok Street 31 #01-326 Singapore 650371
Opening Hours : 9.30am – 7pm
#35 : Chilli Crabs
Nobody can ever leave Singapore without ever trying the famous Chilli Crabs and that is the reason why our chilli crabs came in at number 35 in the World's best food. While there are a dozen different ways to cook the crabs like the black pepper or steamed, no other country cooks the chilli crabs better than Singapore.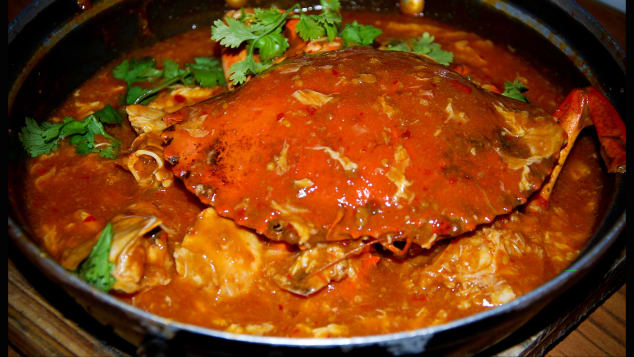 Some of our favourite chilli crabs are:
Mellben Seafood 龙海鲜螃蟹王
232 Ang Mo Kio Avenue 3, St 22, #01-1222, Singapore 560232
Opening Hours: 5pm – 10:30pm
Red House Seafood – Grand Copthorne Waterfront
Grand Copthorne Waterfront Hotel (Level 2), 392 Havelock Rd, Singapore 169663
Opening Hours: 12pm – 2:30pm Last Order 2pm, 5pm – 10pm Last Order 9:30pm (Mon – Sun)
TungLok Seafood
#03-09/10, 10 Paya Lebar Road, Singapore 409057
Opening Hours: Lunch 11:30pm – 3pm, Dinner 6pm – 10:30pm (Mon – Sat)
Lunch 10pm – 3pm, Dinner 6pm – 10:30pm (Sun)